busboy ... phone photos , signs
tue 2005-jul-12 20:21:51 pdt ... permalink
---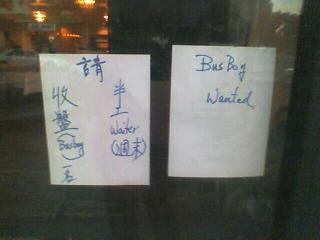 "busboy wanted", apparently either english- or chinese-speaking. But it appears that waiters must speak chinese.
---
mail me ... comments (0)
crash on the freeway ... 100% true stories , signs
wed 2004-jun-30 12:52:06 pdt ... permalink
---
Northbound 101 in Santa Clara about noon, I saw the aftermath of a crash. Great America's electronic signboard apparently runs Windows, and so, naturally, is prone to failure. You could see an ad in the background, but covering up much of it were several dialog boxes. Of course I was driving, and so didn't manage to either read the dialog or get a photo. Oh well.
---
mail me ... comments (1)